To Create a New SmartBuilder
Open the Microsoft® Word template that you want to create a SmartBuilder in.
Go to the SmartDocs tab.
Select the Assembly drop-down menu.
Select Manage SmartBuilders.
Select Edit SmartBuilders.
Follow the steps in the New SmartBuilder Wizard to create the SmartBuilder.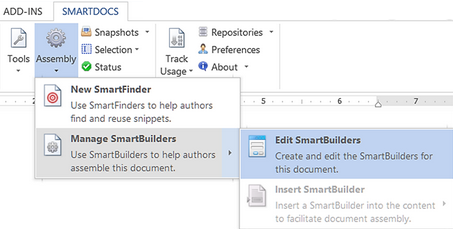 After the SmartBuilder has been created, the Edit SmartBuilder dialog box will open, so that you can design the user interface and actions for the SmartBuilder.